Panasonic SIP (IP) telefoni
PANASONIC KX-HDV130
Osnovni model Panasonic SIP telefona je kompaktan i lak za postavljanje na malim prostorima
2-linijski SIP telefon
HD širokopojasni zvuk
Full-Duplex Speaker Phone
Podrška za UC funkcije ukljucujuci Broadsoft UC-ONE, uaCTSA
2 SIP naloga
2 LAN porta
PANASONIC KX-HDV230
6 SIP naloga
2 Gigabit LAN porta
24 tastera za brzo biranje sa LCD ekranom za davanje imena
HD širokopojasni zvuk
Full-Duplex Speaker Phone
Podrška za UC funkcije ukljucujuci Broadsoft UC-ONE, uaCTSA
The new innovative KX-HDV series SIP deskphones bring you exceptional versatility and usability at an economical price. Able to connect to multiple lines while offering crystal-clear HD sound, easy to read LCD, and support for Broadsoft, this world-leading series offers high-quality communication, faultless reliability and long-term cost savings in one complete package.
12 function keys with the option of more
12 function keys can be continuously displayed on screen while up to 24 numbers can be registered. Flexible functionality enables expansion to up to 224 keys with optional expansion module HDV20.
HD voice quality
Comes complete with HD SONIC features to maximise wideband performance and enable crystal clear communication, including full duplex, acoustic cancellation and packet loss concealment.
Large, easy to read LCD with backlight
2.3-inch main LCD and 5-inch self-labelling LCD with backlight makes text easy to read and fast to access, bringing speed and accuracy to daily communication.
Panasonic KX-TGP600
Panasonic novi KX-TGP600 SMART IP bezicni telefonski sistem je idealan poslovni komunikacijski alat.
Podrška za 8 DECT bezicnih slusalica i simultane spoljne linije
VoIP Podrska
1.8" kolor LCD sa pozadinskim osvetljenjem
Funkcija redukcije buke
Znacajno smanjenje troškova ukupne investicije
ECO mode
An easy-to-manage solution
The KX-TGP600 is remarkably easy to set up and manage. Its provisioning function enables remote configuration settings and handset management. Users can choose from two maintenance methods – local management with a the base unit, or service provider management.
A fully expandable solution
Users can connect as many as eight DECT wireless handsets to the system. With the ability to use up to eight outside SIP lines simultaneously, customer service becomes more efficient, and the cost and effort of installing and managing separate outside lines are removed completely. Similarly, the system allows users to have up to eight distinct phone numbers.
A high-quality solution
A noise-reduction function reduces surrounding noise and enhances the clarity of the call at the press of a button. The KX-TGP600 also automatically adjusts the receiver volume to an easy-to-hear level if the user moves from a quiet area to somewhere noisier.
A cost-saving solution
The combination of quality, reliability, ease and flexibility add up to a significant reduction in the overall cost of ownership of the KX-TGP600. Add this to a low initial cost and you have a system that offers far greater return on the user's investment over the lifetime of the technology.
A stylish, specialist solution
There are a wide variety of handsets which are compatible with the KX-TGP600. Among those is the KX-TPA60 DECT wireless handset, offering a 1.8" colour LCD with backlight, HD wideband audio (G.722) and 500 phone book address/20 last dialled number memory. There's also the KX-TPA65 wireless desk phone, which offers a significant advantage over 'traditional' desk phones, as its DECT capabilities mean no additional cabling is required when the system is being installed.
The coverage area of the base unit is approximately 300m outdoors and 50m indoors, depending on the environment. Because some users require greater coverage, the system can include an optional repeater, which can expand the practical communication are up to a maximum of around 200m indoors.
PANASONIC KX-HDV330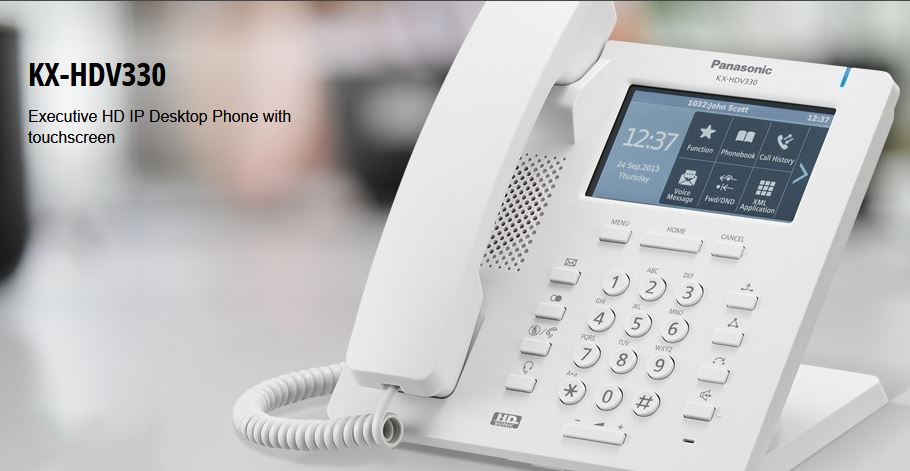 4.3" kolor TFT LCD "touch" panel
Built-in Bluetooth® for wireless capability
12 linija
2 x Gigabit Ethernet & PoE
24 fleksibilna funkcijska tastera sa opcionim proširenjem do 224 tastera
Expanding upon the exceptional success of existing products within the KX-HDV range, Panasonic's new KX-HDV330 delivers the same affordable high quality, but with the added-value features of increased function keys, a touchscreen LCD panel and the ability to connect to up to 12 lines.
The innovative KX-HDV series of SIP deskphones offers you flexible, world-leading communication, faultless reliability and long-term cost savings in one complete package.
Colour TFT touch panel
The KX-HDV330's 4.3" backlit colour LCD touch panel makes text easier to read and allows simple and intuitive operation.
Built-in Bluetooth
®
A wireless headset can be used to enable smooth and seamless response to incoming calls.
Easy installation and maintenance
Users will find the phone is up and running without delay and its uncompromising reliability means maintenance costs are kept to an absolute minimum. Equally, when in standby mode, the phone consumes minimal power, again, reducing costs.
PANASONIC KX-HDV430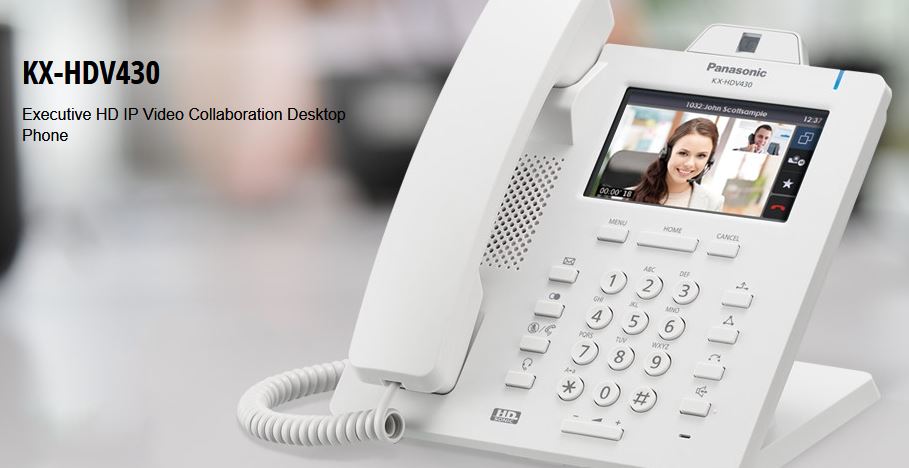 Ugradjena video kamera pruza mogucnost video konferencije
4.3" kolor TFT LCD ekran osetljiv na dodir moe biti korišcen za funkciju video telefona
Sposobnost da se poveze sa video IP kamerom kako bi omogucio "off-site" monitoring i upravljanje iz vase kancelarije
Idealno resenje za upotrebu u kancelarijskom i kucnom okruzenju
Do 16 linija
2 x Gigabit Ethernet & PoE
Flexible function keys with optional expansion of up to 40 keys
HD SONIC sound for maximum voice quality
Support for UC features including BroadSoft integration
Built-in Bluetooth® for wireless capability
The brand-new versatile KX-HDV430 marks the high-end addition to Panasonic's now complete range of deskphones, thanks to its built-in video camera, offering multiway video communication and remote visual monitoring.
The innovative KX-HDV series of SIP deskphones offers you flexible, world-leading communication, faultless reliability and long-term cost savings in one complete package.
Colour TFT touch panel
The KX-HDV340's 4.3" colour LCD touch panel with backlight makes video images crisp and clear and encourages simple and intuitive operation.
Video communication
The built-in video camera allows face-to-face conversation via the phone's colour LCD screen, while a 3-party videoconferencing feature enables remote and increasingly flexible business meetings.
IP camera linking feature
By linking with an IP camera you can visually monitor and manage on-site environments such as your factory or sales floor without leaving your desk.
PANASONIC KX-HDV20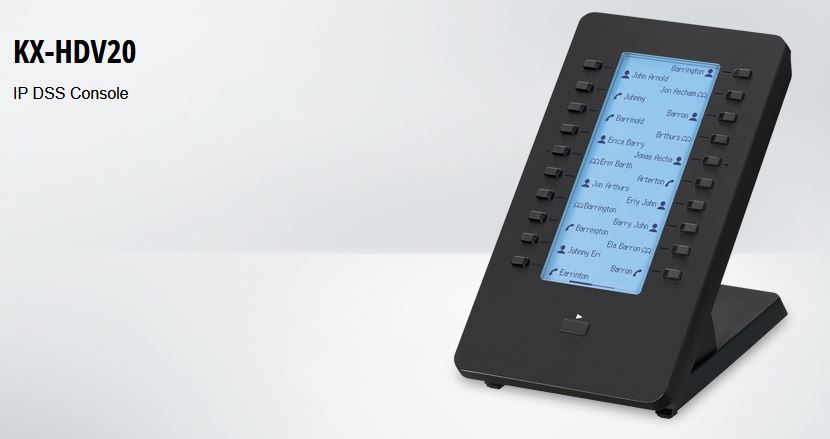 Panasonic dodatna konzola za SIP telefon KX-HDV230NE
40 tastera (20x2)
Ekran 5" sa plavim pozadinskim ostvetljenjem
Do 5 konzola na jedan telefon